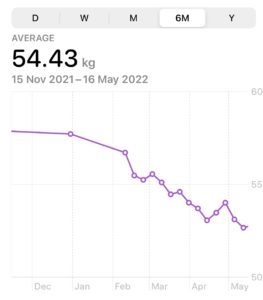 I have written previously about my dietary changes in response to a borderline insulin resistance test result, so I thought I would post an update on where I am on this journey.
As you can see from that graph, my weight kept dropping until I hit 52.5kg, at which point I got scared. That put me in the underweight category in terms of my BMI; more importantly, my sleep became affected and I was definitely losing muscle mass in my quads.
The theory of low carb diets (by which I mean eradicating cereals, grains, sugars, and starches from your diet), is that by replacing them with nutritionally dense foods we will eat less. The reason being that we get more bang for our buck with every egg, steak, and chicken drumstick we eat. Our bodies need less food because everything we put in it has a lot of what it needs, nutritionally speaking. So we don't get hungry as often as we've eaten nutrient dense foods.
This is all true in my experience. However, what did not seem to happen for me was an adequate hunger mechanism. By which I mean, my body seemed to be so satiated in terms of nutrient intake that it was not registering a calorie deficit.