On being a woman who walks in the woods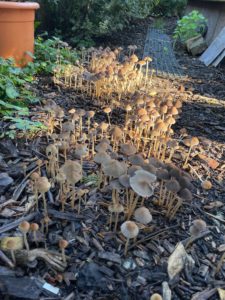 I went into my garden this morning to sow some wildflower seeds that I have gathered over the summer, and found this forest of mushrooms fruiting. There were loads all over the place, and it made me feel quite happy. It prompted me to post some pictures of the cool mushrooms I have seen these last few weeks on my hikes.
I am still obsessed with hiking. I am doing around 20km every weekend and don't know how I lived my life without this practice. I finally know what I want to be when I grow up: a woman who walks in the woods.
I have been walking alone, in the main. I realised that group walks are not for me the day that I was in the New Forest and the people ahead of me had squashed a large amount of stag beetles as they walked and talked. No one seemed to notice or care about the massacre but me. That day I realised that whatever those people were walking for, it wasn't for the same reasons as me.
Since then, I've bought myself an OS Maps subscription and have been plotting my own walks. It's been ace and quite liberating. However, I would be fucked if I lost GPS, so I have booked myself on a map reading course so that I am more confident. I am going to do the bronze and silver NNAS award starting in December. I can't wait!